Gallery uploaded : Aug. 16th 2002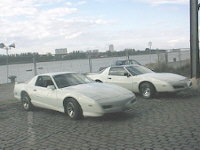 August 18th/19th, 2001
Organization : C.C.C. (Camaro Custom Club - Belgium)
Location : Antwerp, Belgium
With over a record breaking 2,250 US cars visiting the showground this year, APOW in its 10th edition still proves to be the biggest US car gathering in the BeNeLux (Belgium - Netherlands and Luxembourg area).
The weather on Saturday was superb, a bright sunshine and a clear blue sky with only a few clouds showing up in the afternoon.
Though Sunday was kinda gray with some light showers but luckily this didn't keep the cars from showing up in large numbers.