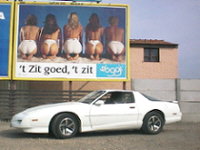 640 x 480 image : 52.311 bytes
..
I drive this car now as a daily driver for almost 6 years without major problems, besides having to change the cat once.

Though I have to be careful on bumpy roads.
Franka is a low car and I already damaged the exhaust a few times, but nothing that couldn't be fixed.

And recently the locking system of the deck lid failed so I had to get myself another one from the scrap yard.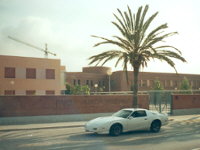 640 x 480 image : 36.707 bytes
..
I find it odd, but most of my friends like her more than Pamela Sue, my gorgeous red '77 Firebird.
Franka has a more modern and a fast look and there are people who seem to like this.

Sadly it's a more common car and it doesn't stand out of the crowd like a '77 does.
It's not a classic, but choices need to be made and she's a very very practical daily driver.

Besides, I like her every day more and more and more.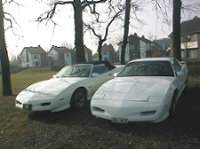 640 x 480 image : 55.246 bytes
..
And girls find it very easy pretending they like this car too... :-)

She's so easy to handle (I could write my name with her, really) and she makes a great eye catcher. Especially when I treat her on a long carwash and she starts to shine like a sparkling diamond in that fresh paint job.

Most people in Belgium have never heard of Firebirds, so they think it's just another expensive American sports car.

Well, I'm not gonna tell them :-)