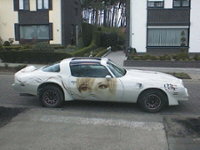 640 x 480 image : 49.155 bytes
..
And I found somebody with some great references to do the paint job.
Of course a Firebird isn't graced with such elegant lines as the pictured Corvette but I have to say the final result looks pretty cool.

The final trailer trip was made to the body shop to seal the whole thing up with some coats of varnish. After this, I only had to assemble it all together again.
Interior, all lights and direction indicators, windshield, radio, door interiors, T-tops, etc...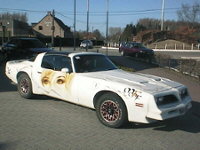 640 x 480 image : 52.530 bytes
..
It took me all summer.
Most of the time I had to wait for parts. My first idea was to re-use everything but in the end, I replaced many of the parts, including the complete interior.

Hey, Mylène has now a Camaro windshield and seatbelts.
Sadly the T-tops are still original, they have a worn appearance and I have to operate them with care. I still plan to replace them with better items - once I find them.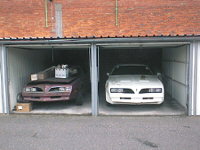 640 x 480 image : 55.047 bytes
..
Now I'm just waiting for next summer.

I still have to resolve some minor inconveniences though, like the door on drivers side and the hood which aren't closing properly, some paint damage on the front spoiler and some crazy wiring problems with lights and radio.

I wonder if I'm going to drive this car - I invested so much money in her I almost feel it to be a shame to drive her.
Naaah.... I can hardly wait.