1,430 images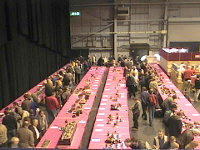 last update Sept. 19th, 2005
One part I like about this hobby is looking at models made by other people and I think that's why God invented plastic scale model shows.
Not only do they have an inspiring effect on me to see all these beautiful creations, occasionally I get to chat with the person behind the glue and the paint.

Since I live in Belgium, most of the galleries depict local Belgian contests but I hope to be able to attend more major happenings abroad.

Gradually I'm improving my camera skills so most recent galleries contain the better pictures. My advice is of course to see them all.