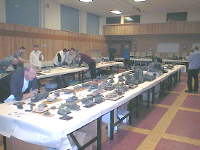 March 10th 2001
Organization : IPMS Antwerp
Location : Don Bosco Instituut, Hoboken (Antwerp, Belgium)

This is one of my favorite yearly events. You can see many impressive models and you can loose hours over the many trade stands, many from abroad. I was very happy to see a local dealer for Al-by and I couldn't resist buying two of these lovely small scale resin AFVs (now I have a Ford CMP truck - just love that beast, it still keeps me awake at night).
The new AML Mirage IIIc, the new MPM Blenheim IV, an old Matchbox Halifax and my 2nd Airfix Halifax (that makes 3 Halifaxes on my crowded shelves now!) and several more injection kits ended up in my possession as well.

I had never seen so many entries in the Flanders Contest before. I took many pictures but sadly some pictures of impressive pieces didn't work out alright - digital cameras and me, you know. Though I hope this collection can give you an enjoyable impression.