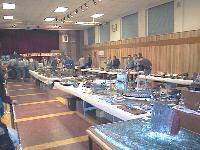 March 13th, 1999
Organization : IPMS Antwerp
Location : Don Bosco Instituut, Hoboken (Antwerp, Belgium)

Two months before this show I was introduced to the world of digital cameras by a friend of mine.
It was exactly what I needed, so I buried the holiday plans and bought a digital camera.

I took about 40 pictures on this show and uploaded them on my portable computer from work - from which they were accidentally deleted a few days later.
Only these 12 images were saved because they were already on a previous version of my website.
That's how I learned never to put private things on the company's computers and the importance of my website.